publishers
Jaypee Brothers Medical Publishers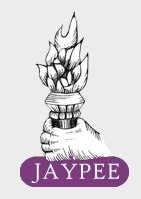 Jaypee Brothers Medical Publishers was established in the year 1969. Headquartered in New Delhi (India), Jaypee is a global company and its cerebral resource collection centres are located in UK, USA, and Panama. As a well reputed publisher in the world, Jaypee has been publishing the works of eminent KOLs and academicians from every nook and corner of the world. Jaypee makes its presence in each and every important medical conference of the world to connect with every possible.

Jaypee remains every doctor's trusted education resource for all his/her professional life. Be it undergraduate, postgraduate, ward round handbooks or be it the professional and reference books for practitioners. Jaypee as South Asia's largest and fastest growing medical publisher and has become a popular and trusted brand among the medical fraternity.

With more than 3,500 titles (health science books, journals and procedures' video) in its list and 350 new products added each year in different streams: Medical, Dental, Nursing, Allied and Medical Science, Veterinary Sciences. Jaypee is one of the fastest growing publishers in the world of Health Sciences Education and information. Jaypee has already achieved the distinction of being one of the best publishers in the world in the field of Ophthalmology.

Ajay Kr Bhootra is associated with Jaypee Brothers Medical Publishers ever since his first book on Optometry Optician's Guide' was published in 2006. It has been a great journey since then. Jaypee Brothers Medical Publishers are very professional and have wide network spread across the world.
Notion Press
The Fastest Growing Book Publishing Company in India

Notion Press started on January 1, 2012 as a provider of high quality publishing services to authors in India. Today, Notion Press offers various publishing, book printing and distribution options to both authors and publishers from around the world. We are a technology start-up & one of the fastest growing book publishing companies in India that aims to solve problems in book publishing and distribution by creating highly scalable solutions that work across the globe.

Ajay Kr Bhootra is associated with Notion Press since 2016 when his first fiction YET WE MARRY was published. They are one of the fastest growing publishing house having more than 1000 book published under their banner.
Jaico Publishing House
Jaico Publishing House, established in 1946, is the publisher of world – transforming authors such as Robin Sharma, Stephen Hawking, Devdutt Pattanaik, Sri Sri Ravi Shankar, Deepak Chopra, Jack Carnfield, Eknath Easwaren, Khuswant Singh, John Maxwell and Brian Tracy. Jaico was India's first publisher of paperbooks in English language.

In addition to being a publisher and distributor of its own titles, Jaico is a major national distributor for books of leading international and Indian publishers. Ajay's association with Jaico Publishing House is going to be started soon as they have agreed to publish his first non-fiction "Race for Space" which is going to be published in 2017.