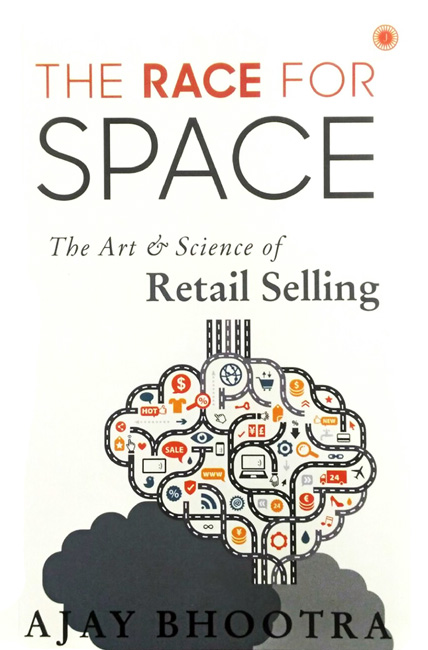 'The Race for Space' is a lucidly written metaphor. When you read 'The Race for Space', you'll find how the author convincingly draws an analogy between Sales on the Retail floor and a typical race. 'The Race for Space' is a book of author's prolific experience, putting together myriads of moments lived on the retail front; some also ones that most salespersons would not prefer recalling. 'The Race for Space' elucidates not just everything that happens between a salesperson and his customer in a retail store, but also how it should ideally happen. 'The Race for Space' incorporates those processes and procedures, on which a salesperson can work and improve the size of his incentive cheque. 'The Race for Space' stresses upon the plans and programs that guide a sales executive in paving his way to becoming a Retail Sales Head.

The author has tried to make 'The Race for Space' an intriguing read, by fascinatingly correlating dynamics of sales and the nature of a race, establishing a rhetoric effect. If one wants to excel in any form of race, one needs to develop and build certain skills distinctive to the chosen race. Retail Sales is a vigorous race wherein you can formulate master plans that help you get out of the trickiest of situations. Besides, you must develop the skill and agility to read and understand the need of the situation, and accordingly approach to tackle. Experience has immeasurable value. Be it anyone's, you can imbibe a lot, steer ahead and accomplish milestones!

If you are into sales business, you should not overlook any resource material that talks about improving your selling ability, especially in today's fiercely competitive scenario. You never know how, when and where a single unique idea clicks and creates wonders for you. 'The Race for Space' is one such compilation of ideas, incidences, tricks and trysts encountered first-hand by the author in his 35 years of experience. 'The Race for Space' is designed to fittingly allure any person who gives a read, let alone folks from the sales world. The ideas explained in here have time and again brought success to the author; they have been shared with the intent to work and bring success to you as well!